bladeograss
biography
About Us::


HEY WE HAVE A SHOW AT THE DUNCAN GARAGE SHOWROOM ON SEPT 21 FROM 8ISH TILL WHENEVER.....DOORS AT 730 $10 OTHER BAND TBA

BLADE OF GRASS!!
We are a local band in the Mill Bay/Duncan area of Vancouver Island. We play grunge/stoner rock/punk
Our members are Chan (rhythm guitar, harmonica, background vocals), Chenae (lead vocals, bass) Ali (lead guitar, tamborine), Dustin (drums). We are influenced by bands such as Nirvana, Hole, L7, Led Zeppelin, Black Sabbath, and the Distillers.

ROCK ON!
0

September 21st: Duncan Garage Showroom, all ages, $10 at the door, 8pm October 3rd: lighthouse pub in nanaimo
1

WARNING!! nothing to do with a bus
1

listen with a bud
4

a special song just for you
2

August 5th, 2007 + 9:08 PM
·

bladeograss
this song was on here but titled wrong
0

August 5th, 2007 + 7:08 PM
·

bladeograss
Lyrics

When the burning is too much
For your lonely soul to bare
When the burning is too much
For your lonely soul to bare

I wonít see
Itís in my eyes
Iím too blind
Whatís in my eyes?

When your lungs begin to shake
And they stop filling with air

I wonít see
Itís in my eyes
Iím too blind
Whatís in my eyes?

When your words stop making sense
And they get lost in your mind

I wonít see
Itís in my eyes
Iím too blind
Whatís in my eyes?

Canít explain it makes you crazy
This whole world makes you crazy

I wonít see
Itís in my eyes
Iím too blind
Whatís in my eyes?

When the burning is too much
LET IT BURN
When your lung begin to shake
LET THEM SHAKE
When your words stop making sense
LET THEM GO
Alias:
bladeograss
Status: Offline
Threads:
7
Posts:
24
Songs:
7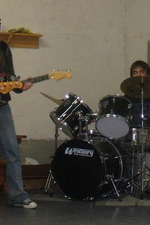 Joined: November 09th, 2006
Last login: September 10th, 2007
My Messengers
| | |
| --- | --- |
| AIM: | n/a |
| ICQ: | n/a |
| Skype: | n/a |